Sep
9
Sun
Community Bar-B-Q

@ Lake Redding Park - Eastside
Sep 9 @ 11:00 am – 6:00 pm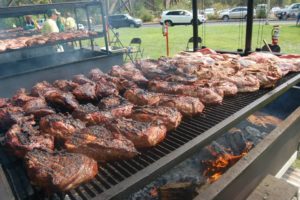 The World Famous Asphalt Cowboys are at it again with the 65th Annual Community BBQ and Auction. September 10th is the day for all the fun as the Cowboys plan to serve thousands of guests some of the world's greatest BBQ, Tri Tip, Chicken and fixins including the Award Winning Cowboy Beans, Top Secret Cole Slaw and The Best Garlic Bread in the West.
This year's event to be held at Lake Redding Park and the boys will be serving delicious BBQ from 11am to 6pm. This year's Auction features spectacular prizes like a Luxury Houseboat Experience courtesy of Silverthorn Resort.Silverthorn Resort is the destination for your Shasta Lake Houseboat Adventure and this Houseboat trip is valued at $3,500. Many other valuable items will also be auctioned off. Come and enjoy fun in the park or drive through and take your food to go. Tickets available at Lulu's Restaurant, the Paint Marts or from any Asphalt Cowboy. Tickets are $7 in advance or $8 on the day of the event.
Proceeds from the event go to support the 2018 Rodeo and all the events and festivities the Cowboys put on during Rodeo Week.
This annual event is a community and family event. Take a family ride through the park on the River Trail and stop at the park and enjoy the food and fun like only the Asphalt Cowboys can put on. All are welcome to come spend a day in the park with the Asphalt Cowboys. Food, beverages, ice cream and fun await the community at the 65th annual Community BBQ. Tickets are available from any Asphalt Cowboy.
For updates, follow the Asphalt Cowboys on Facebook or see it all here at AsphaltCowboys.org